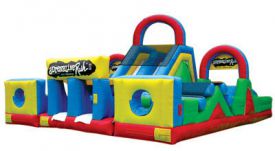 CHAMPION'S PARTY ZONE
Book your next Birthday Party, Team Party or Event at our facility!
KIDZ PARTY ZONE
At Kids Party Zone, your child is the CHAMP!
Our facility includes EXCLUSIVE bouncing fun to your party guests! Our 2 HOUR birthday parties include 1 hour & 30 minutes of fun on our Adrenaline Rush Obstacle Bounce House, professional trampoline, tumble track, and open gym – PLUS 30 MINUTES in our Party Zone to have cake, and treats, or open gifts!
Due to our tremendous RISE in demand….
Check out our NEW Party Times!
Saturday Times
10:00am–12:00noon; 12:00pm–2:00pm; 2:00pm–4:00pm; 4:00pm–6:00pm; 6:00pm–8:00pm
Sunday Times
12:00noon-2:00pm; 2:00pm-4:00pm; 4:00pm-6:00pm
Due to our EXCLUSIVE Adrenaline Rush Obstacle Bounce House RENTALS,
we have a limited number of parties each weekend available!
HURRY & BOOK TODAY!
BIRTHDAY Party Pricing
Up to 20 Guests………………………………………$200.00
21 to 40 Guests……………………………………….$240.00
Birthday Child is always FREE and is not included in the total number of Guests!
JUST FOR THE PARENTS!!!
•A non-refundable deposit of $50.00 will be due at the time of booking to hold the day and time. This fee is applied to the balance due.
•Parents are welcome to bring in outside food, beverages and decorations.
•All participants must have a waiver signed. Parents can sign the group waiver on the day of the party.
•Upon arriving, your items will be placed in carts. At the appropriate time you will be able to setup the party zone area with all your personal items, food, gift bags, etc.
•Party host gratuity is not included. They work hard to make your party the best ever! Feel free to tip your party host at the time of payment. J
•
RULES
•Parental supervision is expected at all times.
•Children engaging in activities that endanger themselves or others will be asked to stop or leave the Party Zone area.
•All children in inflatable area must wear socks!
•We recommend wearing long sleeves and pants to reduce friction on the slide.
•No head first sliding, parents must supervise children at all times.